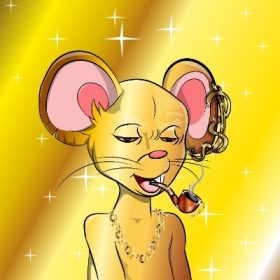 5,000 Medicated Mice on ETH. Our mission is to bring legal cannabis dispensaries into the Metaverse!
The Collection of Medicated Mice: 

Medicated Mice are a group of 5,000 algorithmically generated NFTs. On the Ethereum blockchain, the mice are stored as ERC-721 tokens. 

In early 2022, a large swarm of anthropomorphic Mice will swarm Earth in search of a new source of happiness, cannabis. Their goal is to feel good and grow rapidly. All they need is the chance to soar as high as they can with their new human caregiver. 

Our goal is to: 
Consider the following scenario: you put on your VR headset and travel to the Metaverse. You walk down the street to a nearby marijuana dispensary. Hello and welcome to Candy Land! You make a cannabis purchase. This exciting and fun shopping experience in the digital world will eventually translate into a physical product delivered to your door in the real world. Isn't that cool?