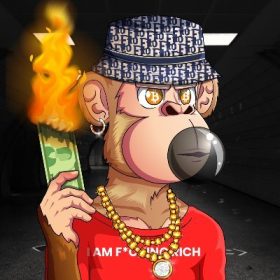 The Coolest Gangsters of the Metaverse & Richest of all time. 5,555 bossy, wise guys living on the fringes of the Solana Block
We're the Meta Ape Gang, and we like to live life on the edge. We are bossy, intelligent, and cool, and we enjoy living on the outskirts of The Metaverse's society. While many people consider us to be the most notorious gangsters on the Metaverse and the wealthiest of all time, we prefer to think of ourselves as outcasts with our own ideologies.

We are superior and far superior to other gangs. The Meta Ape Gang, unlike other gangs, strives to do things differently. We are Crimestoppers, and we want to gain power by becoming the richest people in history. Being wealthy is the only way for us to live our lives to the fullest and in complete freedom.

The Meta Ape Gang is buoyed by a shared sense of identity. While we value freedom and a happy life, money is the most important thing to us. Each member of the Meta Ape Gang has distinguishing characteristics that are unique to the gang. For example, we dress in flashy, expensive clothing, stunning jewelry, tattoos, glasses, and some of the most stylish and fabulous accessories that represent who we are. And, as we previously stated, the Meta Ape Gang is the wealthiest of all time.

The Meta Ape Gangsters are very active in The Metaverse's industrial cities and civilizations. Our goal is to rule the Metaverse, a virtual world. Being a member of the Meta Ape Gang has many advantages. On the one hand, it means you're a part of the family, but on the other, we operate as an indivisible unit.

We're confident you're eager to begin your journey. So, here's your chance to become a true OG and a member of our exclusive Gang.
Collections in Secondary Market