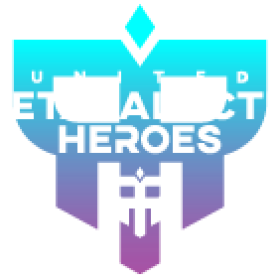 A place where the only limit is your imagination. Open world multiplayer game powered by Blockchain & NFTs.
Metagalactic Heroes is an open world free-to-play & earn game set in a massive metagalaxy powered by Blockchain and Unreal engine. Explore far and beyond, meet like-minded heroes, take complete control over your gaming assets – buy, sell and trade. By completing certain in-game tasks, you may gain UNIT tokens. Build your own home on your own property, or establish your own company. Join forces with others on the battlefield or carve your own path to become the most powerful Hero in the ever-expanding Metagalaxy!

Season 1 of "Children of the Revolution" begins here.
The digits on the calendar read 4057. In days past, the sky was clear and blue. For far too long we have seen the world turn black. A sacrifice has to be made so that all that matters can be saved. We are only as powerful as we are unified! The Metagalaxy needs you now more than ever, and I implore you to draw strength from the kindness of your own heart and step up to the plate as the Hero to save what's been lost and finally free the galaxy from the clutches of evil and chaos.

The game's seasons are divided into three chapters, each of which introduces a new limited edition hero.

Everyone will be able to create a free playable character and use it to explore the enormous metagalaxy, purchase and trade assets, own land, and take part in the game's battle royale mode and other modes of exploration and diversification. However, only those who hold any one of the unique Metagalactic Hero characters will be allowed to take part in the special Hero missions and all 3 fight styles for a chance to earn extra $UNIT tokens. The courageous heroes who fight to preserve the Metagalaxy safe from chaos and evil deserve many more exceptional Hero privileges and rewards to show their gratitude.

There are 1500 different NFTs in S01 Chapter#1. With 15 distinct qualities and more than 700 unique in-game components.