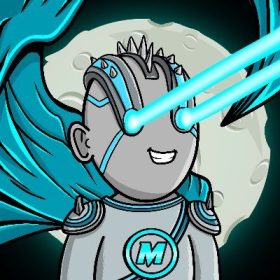 Moonlings are a collection of 10,000 NFTs living deep within Earth's Moon on the Ethereum blockchain.
Pre-Mint Price: 0.069 ETH
Moonlings are a group of 10,000 NFTs (Non-Fungible ERC-721 Tokens) on the Ethereum blockchain that live deep within Earth's Moon. What began as a community-led project inspired by the Pixel Vault Founder's DAO has grown into much more. Moonlings are inspired by Pixel Vault's Metahero Identities and pay homage to those incredible Heroes & Villains. They were created by artist JuicyJama and a passionate team.

The Moonlings' ambition is to become a brand that inspires positive change both inside and outside of the metaverse. A vibrant community, engaging lore, entertaining art, and a strong MoonBank all contribute to that mission. The Moonlings team will be in charge of the roadmap, which will be based on community ideas, input, and participation. Owning a Moonling grants you voting rights to help shape the project's direction and collaborative roadmap. We sincerely hope you enjoy the Moonlings as much as we do.
Collections in Secondary Market