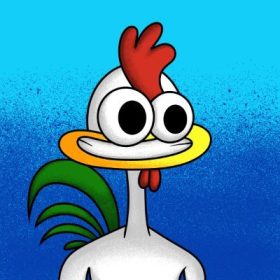 9088 Epic Nuggetz on the ETH blockchain ready to walk amongst you!
A chicken that had inhaled polluted air died one day while it was raining radioactive rain. It ate some Burnt Corn for breakfast, stomped on some Cracked Eggshells, and fell into a bucket of Mixed Splashed Colors....

Suddenly, a Nugget emerged from the bucket!

Nuggetz is a hand-drawn collection of 8888 + 200 ultra-rare pieces ready to take over the NFT-World.

With 1500 traits and accessories, they are ready to brighten the world and bring a smile to everyone's face!

Oh no, there's more?!

How many Nuggets and traits are there?

A collection of 8888 pieces with over 1200 Traits mixed in a perfect combination, increasing the rarity of each piece like no other NFT Collection.