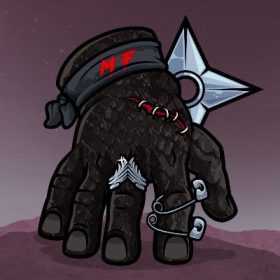 Welcome to @MintedFingers. The exclusive NFT collection hosted on Solana Network.
STAGE 1
DISCORD GROWTH AT STAGE 1. This includes a team of community managers and moderators to take the MF community beyond stars. We create a welcoming environment for the MF community to grow and participate in project decision-making.

STAGE 2
We are working to build an exceptional community, and all members who help raise awareness will be rewarded.

STAGE 3 
Whitelist members have the unique opportunity to have their own chat room. Exclusive private crypto and NFT giveaways are only available to whitelisted members.

STAGE 4
Whitelisted members will be able to mint 1 1 1 1 MINTED FINGERS NFTs. THE FIRST 50 MINTED NFTS ARE FREE. Whitelisted members have a great opportunity to get their MF NFT for free.

STAGE 5
We bring the Minted Fingers NFT to the table! Main launch of all remaining 7 6 5 4 MINTED FINGERS NFTs on Solana blockchain.

STAGE 6 MINTED 
Members who missed out on minting at our launch will be able to obtain their own Minted Fingers if we list them on exchanges.

STAGE 7 
DONATION FUND will be established and will be based on community votes. The money will be donated to the appropriate non-profit organization or charity.

STAGE 8
STAGE 8 Based on community decisions, we will establish MFFF (Minted Fingers Foundation Fond) to support the best innovative business ideas of MF community members. The one-of-a-kind opportunity to turn your business idea into a reality and have it funded by us.

STAGE 9
STAGE 9 As an MF holder, you are a raffle ticket holder with the opportunity to win pricez.

30x $1,000 on a weekly basis

ten thousand dollars

1x $ 20,000

1x $ 40,000

STAGE 10
A portion of future royalties will be put into the MFF Fund, where all members of the MF DAO will be able to vote on how the money is spent.

STAGE 11
All MF members who own MINTED FINGERS NFTs will be automatically invited to the upcoming private community and will have exclusive access to MF benefits. 3D MINTED FINGERS will be created and made available only to MF holders.
Collections in Secondary Market