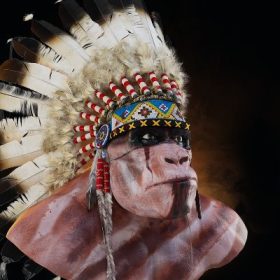 There will be 8.888 Gorillas who are waiting for their friend to make them free.
Lions are known as the kings of the jungle, but gorillas have always been able to stand on two legs. In this context, we wanted to give gorillas what they truly deserved by leaving them with their own planet, dubbed "Planet of the Gorillas." While we leave the simple jungle to the lions, we will see what challenges await us together. You will have the opportunity to be one of the 8.888 gorillas in our jungle in Gorillas Planet.

We have big plans for our jungle as a Gorillas team, and we want them to come true. Your participation is crucial in this regard. We will look after our gorillas and create a thriving ecosystem. This jungle ecosystem will have its own monetary system. This currency will be useful not only in our jungle, but also in the real world. To make it happen, a token launch will be made available. Of course, we love animals and are considerate of their lives and needs in our world. As Gorillas, we will look after our friends and assist them with a donation/charity based on the community's decision.


This project has a lot to do and a long way to go.