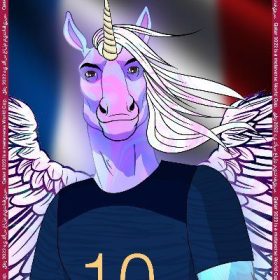 Qatar2022 is a World Cup NFT Rewards project. 50% of all sales are returned to holders directly through the Smart Contract
The 2022 FIFA World Cup is scheduled to be the 22nd running of the FIFA World Cup competition, the quadrennial international men's football championship contested by the national teams of the member associations of FIFA. It is scheduled to take place in Qatar from the 21st of November to the 18th of December 2022.

Qatar2022 is a Dynamic World Cup Themed NFT Project created by experienced Blockchain developers with a love of Football.

The First Collection of NFT's will be a rewards and fund raising Project that will make Collection 2 possible. It is created in anticipation of the World Cup for NFT and Animal lovers. It will consist of 9,900 NFT's (100 teams with 99 players) with Different Jerseys and Flags that represent different Animals from around the World.

50% of all funds raised from Minting will be passed back to NFT Holders through the Smart Contract, competitions and World Cup results. The other 50% of Funds will be used for Development, Marketing and Brand Growth.

Collection 2 of the Qatar2022 World Cup NFT Project will consist of Real Artistic Impressions of World Cup Players and Teams. Collection 2 will be limited to representing the 32 Countries and players that Made it to the World Cup stage.

These NFT's will be Dynamic which means the players and team results will update on the NFT through the Blockchain to give you a real digital piece of History. Goals Scored, Golden Boot, Golden Glove, World Cup winners and More will be updated on the NFT. This means the rarity of your NFT will change as the World Cup plays out.
Collections in Secondary Market