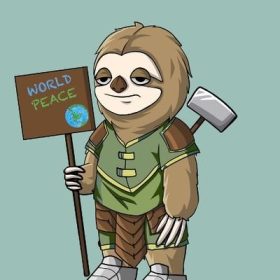 Sloth Warrior NFTs coming to the Ethereum blockchain!
Sloth Warriors is a horde of 10,000 NFTs ready for battle. This is only the first collection in the Warriors NFT marketplace. We intend to create additional collections as well as a universe of unique warriors.

Sloth Warriors arose from the realization that the sloth, like many other animals, is critically endangered and fighting for survival. By portraying these animals as warriors fighting against extinction, we hope to raise awareness and donate profits to foundations that benefit animal life.

Sloth Warriors is a veteran-owned project dedicated to environmental conservation. As a result, 20% of profits will go to foundations that support sloth conservation efforts. With the success of Sloth Warriors, we hope to release additional series (such as Bear Warriors) and contribute to foundations such as Polar Bears International.
Collections in Secondary Market