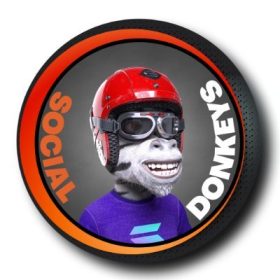 Social Donkeys exclusive NFT community is comprised of 1,300 unique Donkeys from GEN 1 and 2,600 3D Donkeys from GEN 2 made with pure love and passion.
To form a global compassionate alliance for vulnerable species living in chaos and disarray.

The Social Donkeys Club will be a safe zone society, working with our supportive community to create a world where donkeys and other vulnerable species can live without suffering and their contributions to humanity are fully valued.

We donated and adopted many donkeys through Donkey Sanctuary as part of our Gen 1 collection, and we will continue to do so as part of our Gen 2 collection.

As a result, we can't wait to welcome each of you to this fantastic community and have you join us on our journey to an exciting future.