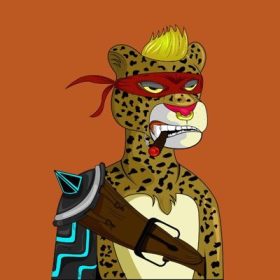 NFT's with a purpose. 11,222 Unique NFT's - Bad Panther Club 111 Super Rare Pink Panthers!
Pre-Mint Price: 0.055 ETH
We are excited to introduce our first NFTs collection, which includes 11,222 unique Bad Panther Club and only 111 Rare Pink Panthers, all of which live on the polygon blockchain. Take a look at our exciting roadmap to learn about our short-term goals, and read our whitepaper to learn about our long-term goals! We will launch our own token that will be used in the metaverse we create, and holders will receive free drops of cryptocurrency, increasing adoption and utility.

We're in it for the long haul! Giveaways (via Chain-link VRF), ongoing charity, exclusive content, exclusive networking, private events around the world, blockchain technology development for retailers and wholesalers in the grocery, pharmaceutical, agriculture, and manufacturing industries, development of our very own wallet to store NFTS and trade our crypto coin, integration of metaverse e commerce for online stores to showcase their products in our metaverse, metaverse development, realestate Please see our WHITEPAPER for a more in-depth understanding of our objectives.
Collections in Secondary Market