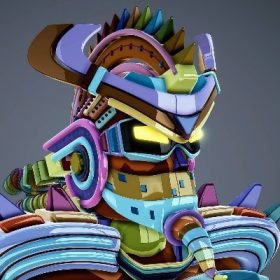 BeyondVerse NFT Collection 10.000 Super Unique 3D Avatars.
BeyondVerse is the start of a fantastic MetaVerse journey. "100,000 3D AVATARS." BeyondVerse is the most complex NFT Collection, with over 900 trails. Prepare for the next digital revolution with virtual reality and augmented reality. 

The future is three-dimensional. All future Metaverse projects will be 3D Worlds. The only way to interact with the various Metaverses is through a 3D Avatar. BeyondVerse's 3D AVATARS serve as our foundation and the start of our journey beyond VR/AR. 

We finally arrived at the final step after more than a year of sketching, modeling, and coding. This is the moment of truth. The final step is to create 10.000 unique 3D BeyondVerse AVATARS. 

It will be available through an initial sale on our website. A randomly selected NFT will be minted on the blockchain and delivered to your wallet and OpenSea account at the time of purchase.