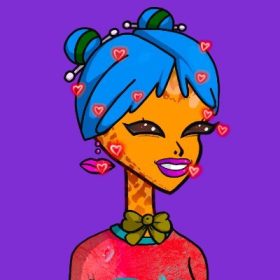 7777 unique collectible NFTs! Fresh supply of alien girl goodness straight from outer space!
Pre-Mint Price: 0.005 ETH
Our team does not guarantee the creation of a metaverse, an online game, staking, or anything else that you might see in other collections.

Our goal is to build a welcoming community that will decide how to manage our collection.

This collection is not for you if you want to make money by reselling your token the next day. Go ahead, because there are over 20 new collections released every day, and you can choose one that suits your preferences. We want to create a community where the floor price is significantly higher than the mint price.

LORE
Have you ever wished to make an alien friend? We, too! Our ladies arrived on Earth from outer space not to colonize, but to learn about our culture and, of course, to make friends.

They happened to land in the most glamorous and artsy places on the planet: LA, Vegas, Abu Dhabi, and so on, and quickly absorbed everything they could see.

Some of them appear to be downright glamorous and fancy, while others appear to be punkish. Learn more about the Ladies by joining SLC!