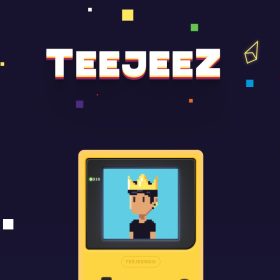 Teejeez is a collection of 8888 randomly generated pixelized humans living on the Ethereum Metaverse.
Teejeez, like humans, are made up of a variety of traits that make up their DNA. As a result, each TJZ is distinct and one-of-a-kind. Teejeez will be mintable as NFT and will exist on the Ethereum blockchain. The TJZ collection has a style that is similar to 16-bit pixel art. It was critical to us that the Teejeez universe have a meaningful aesthetic.

Pixel art, in our opinion, is one of the best ways to pay homage to the earliest programmatically generated images, while also recalling all of the classic games and art styles that affected us as children. Our chief artist InMot created the complete Teejeez art direction and creation by hand.

The Golden Token of the SquareNobles:
TJZ is our first project, and we want to provide the few people who believe in us a lifetime benefit. As a result, the first 1000 minters will receive a SquareNobles Golden Token in the form of a non-fungible token (NFT). This golden token will provide you access to all of our future initiatives, as well as a possible DAO seat if one is built. Golden Token holders will be able to trade and sell their tokens just like any other NFT.

What is SquareNobles and how does it work?
SquareNobles is a digital art collaborative based in New York City. While TJZ is our first artistic endeavor, we're passionate in generative arts, video games, interactive experiments, and all forms of digital art.

What's next on the agenda?
While discussing the next steps, there are two points to consider.

To begin, we'd like to invite you to join us on our journey by establishing a voting mechanism for all of our future decisions. For example, all future Golden Token holders (as described above) would be entitled to participate in the decision-making process by deciding which idea to create next.

Second, we have numerous ideas for TJZ and other projects. Those thoughts arise through contemplation, such as what if your TJZ could have a child? Do you have a spare room? What if they could compete for a reward pool in a battle royale? What if they could have pets that you could fuse in order to evolve them? What about making weapons... and so on? For the time being, we can't say much more, but we hope this gives you a taste of what's to come on the SquareNobles adventure.