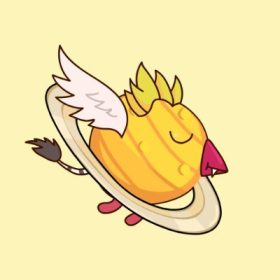 Crypto Birds pronounced as 🐦Crypto Birbs🐦 is here to build explosive fun twisted 🐦birby community🐦
Collect and mint your own bird from a collection of 10,000 randomly created Birds, including over 300 assets, all of which are equally illustrated with varying rarities. Aside from the basic cosmetics, each bird has a useful utility trait called "Bird god Level." The birds are stored on IPFS and Minted on the Polygon Network as an ERC721 compliant Smart Contract.

Play
TheCryptoBirds will begin with competitive minigames before showcasing our NFT community utility project. Our blockchain web3.0 engineers created the original concept with the goal of bringing a unique Play to Mine system to a much larger audience; a Play to Mine system that takes you beyond the cryptosphere into a world where you can fight casual birds and fellow bird owners while mining and earning rewards.

A crypto bird is a ticket to the decentralized NFT experience of the future. By becoming a member of this community, you will become a Bird God in what promises to be a wonderful NFT community endeavor. By exercising their Bird God voting power, NFT holders will have a significant impact on our ecosystem. Future royalties from this project and its developments will benefit holders. They will have a direct impact on the project because they are the show's stars!

We combine art and blockchain to provide the most interesting and fully customizable NFT experience. Our team is working on a fun NFT community art project that will be simple enough for non-crypto users to engage in and earn rewards from, while also providing a deeper level of utility for our NFT and people interested in the Web3 portion of the project.