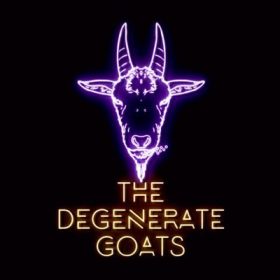 NFT community of 3333 Goats. To become a member, join our discord and whitelist for pre sale!
TDG is a collection of 3,333 Degenerate Goat NFTs, which are one-of-a-kind digital collectibles that live on the Ethereum blockchain. Your Degenerate Goat also serves as your Goat Barn membership card, granting you access to members-only benefits such as THE BAR, an IRL barn turned into a bar. The community can unlock future areas and perks by activating the roadmap.

THE DETAILS
Each Degenerate Goat is unique and is generated programmatically from over 109 possible traits such as facial expression, hand objects, clothing, and more. All goats are cool, but some are more uncommon than others.
The goats are stored on the Ethereum blockchain as ERC-721 tokens and are hosted on IPFS. (See also Proof and Record.) A goat costs 0.08 ETH to buy.
Members-only areas in the metaverse, such as THE BAR, require Goat holders to be signed into their Metamask Wallet.
Collections in Secondary Market