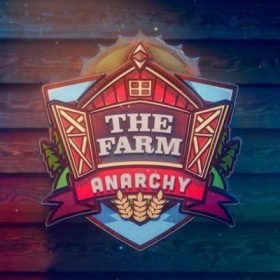 The rotten porks is the first collection of The Farm Anarchy project, landing on ETH blockchain.
The Farm Anarchy was founded by five Italian guys who were inspired by the idea of bringing a large project to the world of NFTs. For an overview of the arts, visit https://thefarmanarchy.com/, which is linked below the project and team details.

On the artistic side, there are two 3D artists with over 6 years of experience who have created content for multinational corporations such as Netflix, Google, Luxottica, and others. These abilities have been put to use in order to provide assets to the community that can differentiate themselves in terms of quality and attention to detail. The remaining members of the group help with the project's social communication, marketing, and development (website, smart contract).

The project is structured in accordance with a long-term roadmap, is transparent and solid, and is capable of providing benefits and utilities to the community. There are three main chapters, each associated with a different collection and representing different symbolic characters from our history. The roadmap is divided into the following phases:

- 0% Presale Drop: One of our goals in this first phase is to reward those who have supported us since the beginning. To accomplish this, we will organize a presale drop in which members will be able to mint 1,000 NFT from the first collection, which will be focused on the political class that controls the farm, represented by the Rotten Porks.

- A 15% Main Drop: The remaining 9,000 assets are now available for minting by any member.

- 30% AirDrop: During this phase, 50 lucky members will be given the opportunity to receive a free special edition of Rotten Pork.

- 40% Second Drop: During this phase, a second collection of 10,000 NFTs associated with a completely new character will be introduced.

- 50% Merchandise Drop: A limited number of t-shirts and sweatshirts made in Italy will be distributed to all those who want to represent the project in their daily lives.

- 60% Last Drop: During this phase, the final 10,000 NFT collections will be dropped.

- Projects with a success rate of 75% Sponsorship: Our team is a firm believer in the NFT ecosystem's potential. As a result, we want to provide the opportunity to assist in the development of interesting projects. We will leave room for our members to suggest which developing projects they believe are valuable and solid. The rest will be taken care of by us, with donations and direct sponsorship on our social channels.

- 100% Board Game Launch: At the end of this long journey, we want to provide our supporters with something physical and tangible in order to differentiate ourselves from others. We will create a real board game, never before seen on the market, in collaboration with a team of experts.

This roadmap represents the major milestones; as a result, additional steps may be incorporated and communicated as the project progresses. Among these, we intend to implement a system of royalties redistribution from sales made on the OS platform. Furthermore, if we successfully complete all of the preceding steps, we will evaluate the possibility of entering the metaverse in order to extend the overall project's longevity and value.
We are confident in our ability to add value to the NFT ecosystem, and even if our project is not selected for a partnership, we would appreciate your feedback so that we can improve and benefit.