Significant collection
Significant collection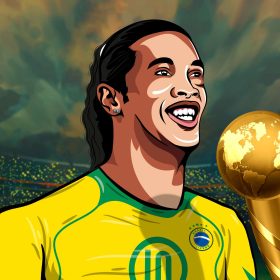 The Ronaldinho Collection pays tribute to the career of the Brazilian superstar through 10,010 artistic avatars.
The Ronaldinho NFT Collection includes up to 10.010 distinct Dinhos that commemorate Ronaldinho's most memorable moments in his life and career.

Each of these Dinhos is a PFP avatar that represents Ronaldinho's memorabilia through his charisma, enjoyment, and enthusiasm for the game.

You'll have access to exclusive features in the metaverse, as well as online and in person with Ronaldinho and the Dinhos community, if you own a Dinho. As a holder, you will have the opportunity to immerse yourself in Ronaldinho's journey like never before.

This is Ronaldinho's Official NFT Collection, presented to you by Shirtum.
Collections in Secondary Market