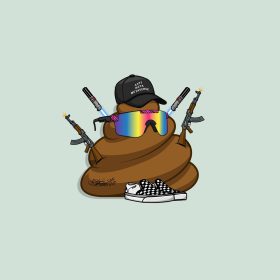 Worthlesss Pieces Of Sh!t
WORTHLESSS is a collection of 10,002 NFTs — unique digital collectibles living on the Ethereum blockchain.
So, what is WORTHLESSS? Well, we're a home base for thinkers, artists, and misfits bold enough to break away from the establishment and hold up a middle finger to centralization. We're energized by web3 innovations along with cryptic creativity, and are ecstatic to join the charge as the world transforms into a crypto economy. Our goal is to unite dope, like-minded people who are emboldened by the power of the blockchain and bring them together — both online and off — for one hell of a good time.

Holding a WORTHLESSS piece of sh!t™ allows you to participate in coordinating the WORTHLESSS Community Treasury. The treasury will be seeded with 20 ETH when the public sale sells out! WPOS™ holders can vote for experiences, activations and campaigns that benefit the community.