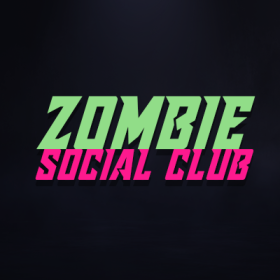 Putting NFTs together with community and music. The ZSC is made up of 8888 zombies with bad attitudes who live on the ETH blockchain.
The zombie social club supports art in music, digital art, merchandising, community, and nft's. With your ZSC NFT, you'll get access to everything from special apparel to metaverse concerts and exclusive real-world events to giveaways and derivative drops. You'll also have the chance to earn handsomely by trading our zombie collection on the open market.

Even though we're all social zombies, what sets our project apart is the vision and skill we have to bring together music and art of the highest caliber from respected artists across the globe. the zsc will lead the way as the metaverse pulls forth the finest of art culture.

At launch, customer service will be our first concern. We want everyone in our community to feel at ease and to know how to get the most out of their time here.

we will airdrop 1000 zombie social coins to all holders at 10 percent of mints. Major exchanges like coinmarketcap, kucoin, gate.io, and others will list our token.