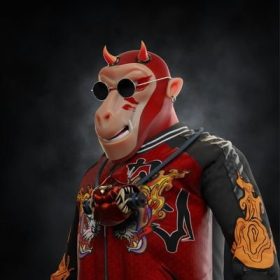 5,888 humanoid baboons , 1 journey to save the mankind NewHabitat
Pre-Mint Price: 0.0058 ETH
A ZEPPELIN IS SEEN FLYING ACROSS THE SKY IN THE YEAR 2150, WHEN AN APOCALYPSE WIPES OUT ALL HUMANITY FROM THE EARTH. THERE IS A MAN INSIDE, A SCIENTIST – THE LAST LIVING HUMAN LEFT.

IN HIS LABORATORY, HE CREATED HUMANOID BABOONS WITH GENETIC MUTATIONS OF THE WORLD'S MOST INTELLIGENT HUMANS. HE DESCRIBES THEM AS METABOONS. THE ZEPPELIN HOLDS HUNDREDS OF METABOON PODS THAT ARE READY TO BE ACTIVATED.

HE WILL BRING TO LIFE THESE METABOONS AND SET THEM FREE TO CREATE A BETTER WORLD.

WHAT IS HIS FINAL GOAL?

WHY WAS THE APOCALYPSE CAUSED?

WHERE IS THE ZEPPELIN GOING?

TO BE CONTINUED....