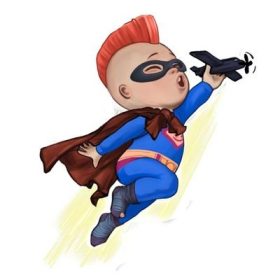 Work has begun on animation. The merch deal will be announced soon after the mint. The trailer of the P2E game will be released before the mint
Dr. Wilson is a scientist and entrepreneur who is interested in babies with special abilities, with his clinic serving as a secret laboratory for research. Babies in his laboratory have superhuman abilities that normal humans do not have.

Babies are sent to special units around the world to be raised after passing various examinations. The process, which continues in this order to this day, is disrupted by the 'ganster baby.' This baby defies Dr. Wilson and flees the clinic.

The ganster baby's special abilities are limitless, and he poses a serious threat to the world. Dr. Wilson must capture the ganster baby in order to avert total chaos. But there's only one way to do it: with so many special needs babies! Which side will you take in this never-ending chase?
Collections in Secondary Market