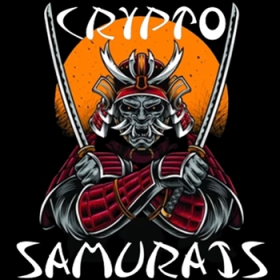 Unique, Audible, And Customizable Samurai Warriors Armed, Dangerous, And Ready to Conquer The Crypto-Verse
The inspiration for Crypto Samurais really came from an urge to find what we could identify best with as traders, investors, and just crypto enthusiasts. We know we've got our Crypto Punks, Crypto Kitties, or whichever Doge Meme NFTs to choose from, and don't get us wrong those NFTs are great, but for us those were still missing something. Something we could not put a finger on for the longest. Then it dawned on us, most of those other NFTs only capture the fun, goofy thrill ride that is crypto with none really capturing the gritty reality.

Crypto is also war!
A war against fiat and a war fought to secure financial freedom. There will be ups, downs, bumps, and curves in this war but the best way to win any war is to have powerful allies! So, we decided to create an NFT that encompasses the fun and the war that is the crypto landscape and we are calling all who have bought a dip, hodl'd, and are diamond handed to become Crypto Samurais! 

Why Samurais?
Samurais are Decisive, Courageous, Honorable, Loyal, and when necessary Brutal which are all qualities needed to succeed in Crypto. Samurais work together to win in the Crypto-verse, having fun along the way! Become a Crypto Samurai by owning one of our unique, customizable, and audible warriors!