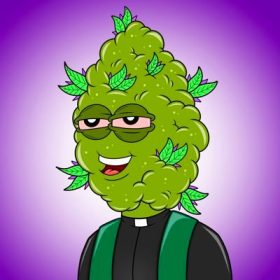 Dope Heads NFTs a 10,000 NFT-START-UP (Not Just A Project)Focused on freeing Non-Violent Drug Offenders/Exec.
Dope Heads are generative art NFTs created by Houston, TX Hip Hop scene leaders. Bryan "Tow Down" Theriot, a pioneer in the Houston scene and the Cannabis revolution, went from federal prison to becoming an outspoken proponent of legalization/decriminalization and an advocate for the families of other non-violent drug offenders. He's putting his money where his mouth is with Dope Heads...

"Tow Down" Bryan In the year 2000, Theriot had a thriving music career and a major label record deal with Elektra Records. His debut video, "Country Rap Tune," which featured H.A.W.K. and Big Pokey, was a smash. Around the same time, he began a grow operation to provide'refreshments' in his H-Town studio, which quickly became profitable. Because cannabis legalization was still a long way off, he was sentenced to more than 7 years in prison. During his time in prison, he devised a plan to help others incarcerated for cannabis possession in his community. Bryan teamed up with legendary graphic artist Mike Frost to form Dope Heads in 2021. Johnny Kash, a digital art trendsetter, joined the team to round out the vision.

The team plans to donate a significant portion of the net earnings from Dope Heads NFTs to organizations that assist nonviolent drug offenders and their families.

The Dopey Podcast inspired the creation of The Dopey Foundation. The podcast's mission has been to create a space for addicts that deals with addiction and recovery in a nonjudgmental manner, thereby helping to end the stigma associated with prison and drug addiction and developing community. Many people in the community have had contact with the legal system at some point in their lives. A 501(c)(3) nonprofit organization is currently being formed with the goal of assisting addicts and alcoholics in their struggles.