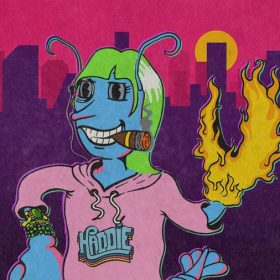 From the seaverse to the metaverse… meet Haddie, the ultra rare cotton candy lobster
From the Seaverse to the Metaverse

Haddie's Bay Club is a collection of 7777 Haddie the 1-in-100-million Cotton Candy Lobster NFTs. On November 5, 2021, Haddie was discovered off the coast of Portland, Maine by local lobsterman Billy Coppersmith. Founder Chief Curator Mark Murrell (GetMaineLobster.com) has a partnership with Coppersmith and became Haddie's trusted guardian. Though Mark quickly found Haddie a forever home at a local aquarium, he knew the whole world would fall in love with her amazing colors if given a chance to behold Haddie's beauty….he was right. Haddie took over social and the news…she was an overnight sensation. Now we're building a special "1-in-100-million" community around this ultra-rare lobster.
Collections in Secondary Market