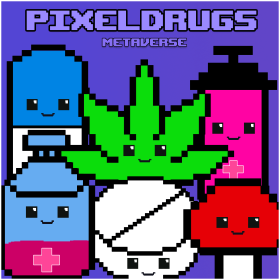 420 clean, adorable Pixel Drugs trippin eternally on the solana blockchain. P2E 3D Metaverse Game, comic NFTs, DeFi Token
Pixel Drugs is an NFT collection of 420 randomly created artworks which are saved eternally on the Solana Blockchain. They comprise of six psychedelic primary characters and acquired more than 100 distinct pixel accessoires with metadata!

👾P2E 3D Metaverse Game
🪙Token airdrops for holders
📖Comic book NFTs
🎩Fashion merchandise
🎱Use 3D Pixel Drugs as Facebook Metaverse pets
🔈Metaverse partys
🎨Unique art and metadata
🧨 More upcoming

Game Features:
Play to earn with friends
Own Rooms
NFT show off

Join Leafys trip into real life and help it discover its pals!
Play along with your buddies and acquire Pixel Drugs token!
Own rooms and invite pals!
Use your Pixel Drugs NFTs as playable characters!
Show off your solana NFTs in your rooms!
Collections in Secondary Market