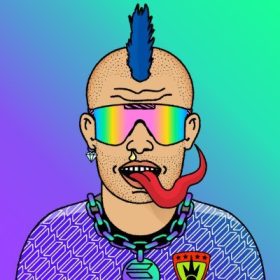 11,111 Punkstars that lives in the Solana Blockchain. Each one will be a playable in our P2E.
Punkstars Soccer Token ($PNKS) is an SLP token (created on the Solana network) that can be used to make purchases and receive sales within the future game Marketplace and mint new game assets. It can also be used as a form of investment (hold, trade, and remuneration by staking) because tokens can be valued with the popularity and development of the game and NFTs.
Each Punkstar will be an active participant in our Play-to-Earn Game (scheduled for release in Q4 2022), which will feature 4 V 4 simulated matches in its own Metaverse with 2D punky style environment, in which you will select your best character, form a team, and compete against opponents to earn native project tokens.
The Punkstars are insane, and they don't care about cryptocurrency. They do, in fact, care about good deeds.

That is why we want to donate a portion of their profits to non-profit organizations that help develop young soccer players all over the world.

This will begin when we have sold 50% of the roadmap and 100% of the roadmap. For each of these milestones, a donation of 200 SOL is planned to two different NGOs chosen by community vote.