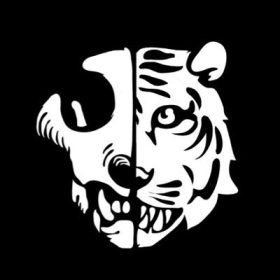 7,777 Rebel Tigers stepping into the Metaverse.
Pre-Mint Price: 0.066 ETH
"Hundreds of years ago, a rebellion broke out and took over the jungle." 7,777 rebel tigers gathered, each one unique but equally rebellious, with the goal of revolting against the digital world's tyrants. The REBEL TIGER CLUB was just getting started." 

Hello and welcome to the Rebel Tiger Club. 
The REBEL TIGER CLUB is a limited-edition collection of 7,777 Rebel Tiger NFTs - one-of-a-kind digital collectibles. which are essentially digital assets that can be proven to be one-of-a-kind The tigers are ERC-721 tokens that live and rebel on the Ethereum blockchain and are securely hosted on IPFS. 

RTC is made up of over 180 rebellious traits that were all hand-drawn. Each Tiger NFT is unique in its own way and will be an exclusive Rebellion membership. Join the Rebellion and become a part of a community that aims to change the metaverse. 

Together. 
Ownership of a Rebel Tiger Club NFT entails much more than just owning a one-of-a-kind piece of art; it also entails membership in the blockchain's most exclusive rebellion. Membership in this rebellion will come with a slew of perks and incentives, both on the blockchain and in real life. Some of these advantages are detailed on the roadmap! 

RTC's grand vision is to create a digital world in which digital-ownership rights are recognized and barriers such as censorship and access restrictions are eliminated. With this in mind, RTC will take any legal action necessary to oppose digital dictators. Your Rebel Tiger will be your digital identity, assisting you in rising up against centralized digital dictatorships!