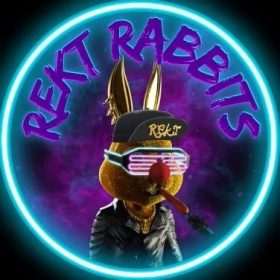 Rekt Rabbits are a collection of 4,200 Unique 3D Rekt Rabbits that will be living on the Ethereum Blockchain.
In a Web3 world full of apes, it's refreshing to deviate from the norm and release something completely unique. We intend to create a Rekt EcoSystem of nfts, with REKT RABBITS serving as the genesis. Going down this road will be a sure bet for all genesis. Rekt Rabbit holders benefit from any ventures we undertake as a Rekt Rabbit Family. Family is important to us because we are parents. That being said, REKT RABBITS is committed to growing our own FAMILY through the community while also reducing our carbon footprint! We intend to accomplish this by purchasing Carbon Offsets, which help to offset the carbon footprint.

Rekt Rabbits will release our own merch line, which will include hats, hoodies, tee shirts, beanies, and other items! NFT HOLDERS will also be able to have their ACTUAL REKT RABBIT emblazoned on their Hoodies and Tee Shirts!!! This will be available ahead of the launch!