Significant collection
Significant collection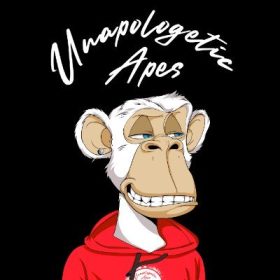 U-APES are a collection of 5,000 Unapologetic Apes NFTs—each with their own unique characteristics living on the Ethereum blockchain.
Unapologetic Apes is a collection of 5000 one-of-a-kind fashion-inspired NFTs. Wear the clothing brand unapologetically, socialize in Unapologetic City, and reserve your metaverse cityscape sanctuary by holding an Unapologetic Ape. Owning an Unapologetic Ape grants you access to all of these exclusive benefits and more.



Every Unapologetic Ape is a one-of-a-kind combination of over 160 traits. Face expressions, clothing, eye wear, and other accessories are all trendy and distinctive.

Unapologetic Apes exist on the Ethereum Blockchain as ERC-721 tokens. Your NFT is your sole property, and you have sole commercial rights to it.

Your Unapologetic Apes NFT is your key to the exclusive benefits that come with being a member if you use your MetaMask.