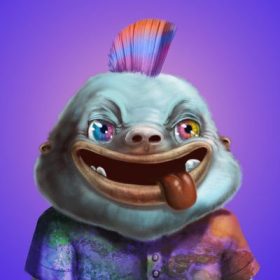 The humans have landed safely on planet UtopiaZ. Together with the ModZ they must devise a way to flourish.
THE STORY OF UTOPIANZ
Planet Earth is in the year 2129. Global warming and human destructive behavior have finally triumphed.

Humans must leave Earth before it is too late. The only hope for humanity's survival is to find another planet that can support life.

Deep within the Canis Major Dwarf Galaxy, the nearest habitable planet has been discovered. It is, however, not devoid of inhabitants!

WHO ARE THESE PEOPLE?
UtopianZ is a unique alien society centered on CNFT projects and communities.

They inhabit Planet UtopiaZ as well as its orbiting moons Zena and DyZtopia.

The current population is unknown. So far, humans have only discovered that there are 2000 ModZ.

THE OBJECTIVE
The first ship is on its way to UtopiaZ. However, the only way to participate is to join forces with a ModZ.

The ModZ are your only way in and out of UtopiaZ.