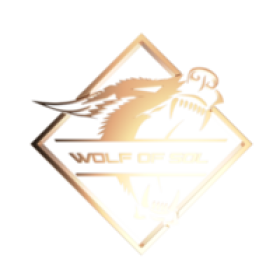 Unique 3D collection of 5555 Wolves coming to Solana to revolutionize the blockchain.Together with 8% royalties from the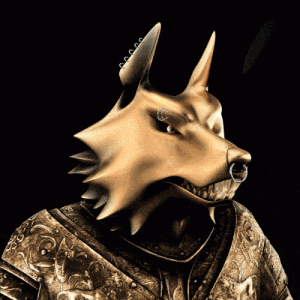 -STAGE ONE

ANGEL INVESTORS WHITELIST
Join our exclusive ALPHA WOLF PACK. Every ALPHA wolf pack member will get special future benefits. There will be 100 ALPHA WOLF PACK members, each will be able to mint 1 WOLF OF SOL for free + gas fees.

MINT DATES ANNOUNCEMENTS
We will announce the project launch date for both private and public mint 10 days in advance.

SPL MINT PASS TOKEN DISTRIBUTION
Every whitelisted address, depending on your whitelisted tier rank will receive one special mint pass token. Every ALPHA WOLF PACK member will receive 1 WOSA token. Every BETA WOLF PACK member will receive 1 WOSB token.

PRIVATE MINT
Only whitelisted addresses will be able to mint Wolf of Sol NFTs at the price depending on their whitelisted rank tier.

EARLY ADOPTERS WHITELIST
Join our BETA WOLF PACK! Every Beta wolf pack member will be able to participate in future events or receive exclusive gifts if he stays active! There will be 4444 BETA WOLF PACK members, who will each be able to mint 1 WOLF OF SOL for 1.5 SOL + gas fees.

WALLETS WHITELISTING
Five days before the private mint we will unlock two hidden channels into our Discord server where we will collect all the whitelisted ALPHA and BETA pack member's addresses.

PREPARATION FOR MINT
At this stage we will ensure that every whitelisted address is selected, and we will deploy.

PUBLIC MINT
Everyone will be able to mint Wolf of Sol NFTs at the price of 2 SOL per wolf.


-STAGE TWO

SECONDARY MARKETPLACES LISTING
We want Wolf of Sol to be listed on the biggest secondary marketplaces on the Solana ecosystem (MagicEden & Solanart) as soon as the minting is over.

8% ROYALTY PAYOUTS
Our project is built by the people for the people and we want to give as much as we can to our holders. Therefore, 100% of the royalties on secondary market sales will be distributed back to our holders which are staking their wolves.

CHARITY CAMPAIGN
We will start a big annual charity campaign starting with Yellowstone National Park and Bithope.We will donate % of the Solana from the minting via nps.gov and bithope.org. The community will decide which active campaign will receive the funds.

CREATING OUR OWN WOLF BRAND
We have been working with companies that have many years' worth of experience with textiles and clothing. After a community voting, we will design and select the best models that will then become available on our website.

RARITY CHECKER
You will able to check the traits and rarity of your wolf in Moon rank.

PARTNERSHIP ANNOUNCEMENTS
We will announce some of the biggest names including celebrities and companies that we are working with in order to skyrocket our project to the next level.

WOLF OF SOL STAKING TOKEN LAUNCH
We will launch staking token to our wolf holders laid down the road. More details about the token and its utility are coming soon.

TEAM EXPANDING
For the next step in the development of our project we will require only the best pioneers in the blockchain, NFT and web industry. For this reason, we will aim to expand our team to fulfill our obligations promptly.


-STAGE THREE

CHANGING THE NFT INDUSTRY WITH THE WORLD'S FIRST TRULY MULTI-CHAIN NFT PLATFORM
A major problem with NFTs at this current time is that every blockchain has its marketplaces and the information about different NFT projects is spread out without organization. We want to restore the order of organization.

Our goal is to change the NFT industry permanently. We will launch the first ever truly multi-chain NFT platform on which you will be able to surf among the various blockchain measures and collections. You will also be able to buy, bid or sell NFTs from different collections. Stay tuned because this is only how we will begin changing the game.

WOLF OF SOL NFTS INTEGRATION
Together with 8% royalties from the secondary markets volume, every wolf owner will also receive a percentage of the volume on our future multi-chain NFT marketplace. More details are coming soon. Catch us while we are here. The Wolves Of Sol cannot slow down.