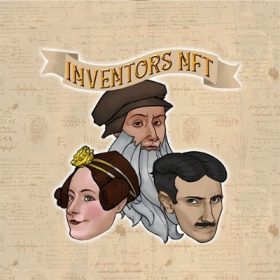 Three great inventors have returned, mastered de-fi + are here to share incredible rewards and top-secret L2E education
The first nft collection built around innovation, wealth building, and continued innovation!

We've returned to the present and are looking for our Assistants.

The MoneyTree is a secret device that we have created.
We give you access to this secret contraption if you help us.
We give you extra entries if you help us and are a member of Communities of Change.
We multiply your entries when you remain loyal to us.
Your submissions are then used to gain access to The MoneyTree and receive the most enigmatic rewards.
Substantial Financial Promise as a Reward
It is entirely up to you how many of us you choose to assist, but one thing is certain: you will be glad you did.
The MoneyTree will have yielded over $700,000 USD in mysterious rewards at the end of a year.
It will also contain a $25k worth of giveaways on the day of mint.