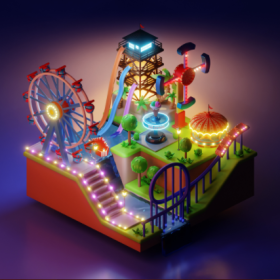 A land-based NFTs about collecting, managing and merging Amusement Park Blocks to earn $RIDE token
The Mint Genesis Amusement Park Blocks are now available for minting on the Ethereum blockchain.
The Amusement Park Blocks Reveal Reveal on OpenSea
$RIDE Token Launch Participants can claim and use their $RIDE tokens for the Gen 2 collection.
We are creating a community in which Genesis holders will be rewarded with collaboration project whitelists.
Mint Merging Is Now Available
You will be able to create brand new Park Blocks. Claimants will be charged $RIDE.
On the Ethereum blockchain, Gen 2 NFTs will be available for minting.
Collections in Secondary Market