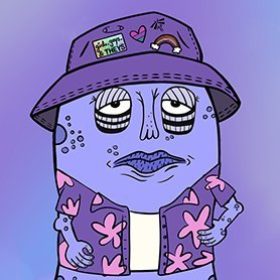 5k NFT collection. 100% LGBTQ+ owned and operated. We're uplifting our community and advocating for a more diverse, inclusive, safe, and accessible Web3.
Melancholy Monsters Club is a collection of 5,000 NFTs generated by an algorithm with over 140 possible traits.

Grizzle, our artist and Co-Founder, was coming out as gay for the first time in 2011. Unfortunately, the reactions of those around her were less than encouraging. To cope with that experience, she created a comic about two monsters who were in love but lived in a world full of humans who thought them and their love were weird, gross, and scary. The comic allowed Grizzle to express her feelings of being misunderstood and othered by those around her.



We've now turned those same monsters into a 5k NFT collection! The monsters were always meant to represent what it's like to be LGBTQIA+ in a heteronormative society. There are people in this world who regard monsters as frightening when, in reality, they are quite boring. Monsters simply want to sit by the fireplace, cuddle their pets, wear fuzzy socks, drink iced coffee, and eat wood-fired bagels.



There are far more terrifying things in this world than monsters.