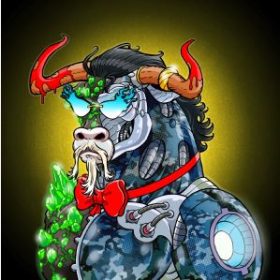 Doxed Founders | DAO | Crypto-Arbitrage | Staking | Web3 Programming Institute | Charity | Innovative Solutions To Improve Crypto and NFT Spaces
Crypto Bulls hail from Satoshi, an advanced civilization planet where cryptocurrencies are the only means of payment and Web2 applications have long vanished. Every program on Satoshi is interconnected via the blockchain network, and Crypto Bulls used the power of the metaverse to create a peaceful world where bulls and machines coexist, devoting all of their energy to constantly improving this sacred connection.

We are a group of young entrepreneurs and comics fans with extensive experience in trading (+20 years total) and digital art (+10 years). We want to create innovative project solutions for the cryptocurrency communities. We are one big family working on this project, where brothers, cousins, and friends combined their design, development, and programming skills to create an outstanding collection of 10,000 bulls that provide access to a strong collective with entrepreneurial values, where co-creation is the key to success. The Crypto Bulls NFT Club intends to harness the power of its community by treating each member as a founder rather than a participant.
Collections in Secondary Market