Significant collection
Significant collection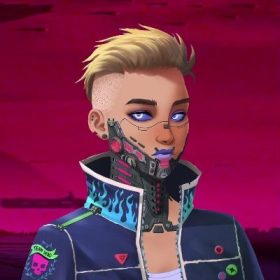 The First Marketplace Uniting All 3: Metaverse, AR and Physical World
In the Triadverse, there are three races: 3,333 Humans, 3,333 Humanoids, and 3,333 Hybrids. After centuries of conflict, the planet is depleted and on the verge of extinction. In the year 3,333, the Chosen, a one-of-a-kind new race, is born, uniting them all for one purpose: to mine the last Tria$, the planet's primary resource, to power intergalactic travel and re-populate the new world. 

What exactly are Meta Triads? 

Meta Triads are a group of 10,000 unique ERC721 standard tokens that provide real-world utilities as well as passive income through project shareholding. 

Triads are made up of 3333 Humans, 3333 Hybrids, and 3333 Humanoids. Plus, there will be one very special Triad who is not of any race and will be revealed at the end. 

The project is working on creating an aggregator marketplace where fashion and apparel brands can create their real-life collection AR and Metaverse. Meta Triads NFT holders will own shares in the marketplace and earn TRIA$ in native tokens whenever a sale is made. 

The global apparel market was worth 1.5 trillion dollars in 2020 and is expected to grow to 2.25 trillion dollars by 2025. Triads are creating the first marketplace, assisting the industry in digitally adapting to Metaverse, which has a predicted CAGR of 45 percent (Compound Annual Growth Rate), indicating the marketplace's enormous potential. 

The project's fully doxxed team has extensive experience in tech startups and has already raised more than $450K in the seed phase with an evaluation of $5,000,000. 

Utilities and Benefits 

Profit Shares from Three Markets Earning Profit Shares from Three Markets Each NFT holder will profit from the first one-stop fashion marketplace for all three worlds: real, augmented reality, and metaverse – all of which are interconnected. 

Exceptional Access 
Having first dibs on limited fashion drops that can be sold before official launches. Holders will have an advantage in all collections. 

Participation in the Tribunal 
Holders will receive votes in the Tribunal / DAO by becoming one of the founders of Triads. Developing into a community-managed project. 

Airdrops of cryptocurrency 
Meta Triads NFT holders will receive 9 TRIA$ per day via airdrop. Tria$ – ERC20 standard token will have future market utility as the ecosystem's primary currency. 

Airdrops & NFT Breeding 
Holders of at least two Triads will be able to breed a new Gen (Delta) in the parallel universe. Holders will be airdropped by new Gen NFTs after mutating to Gen Delta.