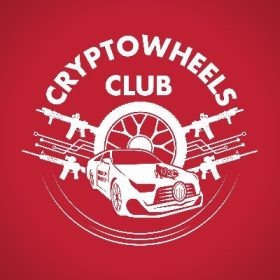 8,888 unique wheels art NFTs equipped with destructive firepower.
The CryptoWheels are a collection of 8,888 one-of-a-kind pieces of handcrafted art, including fire-powered vehicles capable of immense destruction. The collection's goal is to give the holders complete control over the oblivion kingdom. Use the destructive force of your wheels to capture the throne and reap real-world rewards (TBA).

The Plot
The year is 2187, and the world is collapsing around us. For decades, a struggle for control of the Oblivion kingdom, which exists on the eternal blockchain, has raged. Following the mysterious disappearance of the Knight Riders (the kingdom's current governing faction), the seven most powerful factions raced to claim the kingdom. Death Shadows, Demons, Terminators, Death Queens, Black Devils, and Crushers are among the terrible groups, capable of immense destructions armed with strong weaponry and sheer force. In the Cryptoverse, all faction members are referred to as "Wheels."

The conflict has begun; let us see who will be our new Oblivion Kingdom master and who will rule the endless blockchain.

However, as the conflict progresses, a sinister power emerges from the darkness to consume them!

Are you ready to see the Cryptoverse's most epic battle? Will you be the Oblivion's future ruler?

Sneak Previews
Our team of experienced artists has been working on the art for four months to ensure that each of you receives a one-of-a-kind piece of artwork, as each wheel is tailored and altered to give the NFT holder enough firepower to win the war against the greatest.

Our NFT is built on gamification, and the regulations will be revealed shortly after the unveiling.
As a result, automotive fans who purchase our work receive a slew of benefits that no other initiative has ever provided to the community. Art, luxury, freedom, and equality are all major themes in this project.